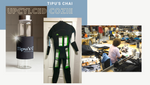 One of our core values is making sustainable choices by reducing our own impact on the environment each year. 

That's why when we started our search for a cozie (or sleeve) for our glass mixing bottle, we looked no further than Ecologic Designs. 

You know those promotional items piled up in your office drawer? Ecologic Designs, based in Boulder, CO, has a different approach. They are a design and manufacturing firm that partners with America's leading brands to reuse advertising, marketing, overrun, and defective materials by repurposing them into new promotional and retail items. When we reached out to see how they could help us with our sleeve search, they answered with an upcycled cozie made from neoprene wetsuits - and we were in love.

The wetsuits are donated from manufacturers who have some product that didn't make quality control or are out of warranty. And even more fun – they receive suits from a aquariums around the country!

Once in hand, Ecologic Design begins cutting, washing, and drying. Then they are off to the printer next door. Once printed, they go back to be sewn and finished at Ecologic Design.

Pretty cool, right? We love the irregularities and handsewn aspects unique to each cozie. From cafes to homes across the country where these cozies are used, thank you for your support. Make sure to get yours today!

For your next project:           
www.ecologicdesigns.com