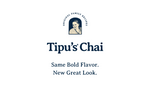 We would like to formally introduce you to our new, refreshed branding.

Since the beginning, Tipu's Chai has been about sharing the great bold flavors of real chai. Kashi Patel gifted her recipe down through the family. In honor of that gift, we felt it was most appropriate for Kashi to be the visual icon, showcasing the quality and authenticity for the brand she inspired. We hope you enjoy it as much as we do.

While staying true to the family recipes, today we proudly share Tipu's Chai with cafes and customers all over the world. We blend carefully sourced tea and organic spices in small batches to deliver the perfect taste of India in every cup.

Passed down to us, passed on to you.
Design by Bronze Creative
Photography by Emma K. Morris