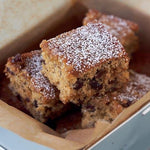 Who doesn't remember the spicy, cakey sweetness of a Raisin Spice bar after school with a glass of cold milk? The rain may be coming down hard outside but you open the door to a wonderful, comforting smell and the best-snack-ever awaits.  

We have adapted a recipe for a delicious old fashioned raisin spice bar and made it super easy with Tipu's Chai Unsweetened Chai. They come out of the oven a deep brown color with a moist, tender crumb.  Plump raisins and chopped walnuts add delicious surprises to every bite.

This recipe starts by plumping up the raisins in boiling water, an important step to create the softness that the cake needs. We used unsalted butter and brown sugar but you can substitute shortening and white sugar if you prefer.  

Do make quite sure the wet mixture is lukewarm to cool before you add the egg or it will start to cook and create little lumps of "scrambled egg" in your batter. Don't be impatient, just stop and have a cup of chai while you're waiting for it to cool down.

The molasses imparts the "old fashioned" flavor but leave it out if you are not a fan. And you can use pecans instead of walnuts.  

Finally, there are many ways you can finish and frost this lovely little cake. Dust with powdered sugar, glaze with a simple powdered sugar and milk glaze or go all the way with cream cheese frosting (which is what we did). Enjoy!
Serves:

12 bars

Prep time:

30 minutes

Cook Time:

15-18 minutes

Ingredients:

1 cup raisins
1 cup water
½ cup butter (or shortening)
3/4 cup brown sugar
1 large egg, slightly beaten
1 TBSP molasses
1 ¾ cups all-purpose flour
¼ tsp salt
1 tsp baking soda
3 tsp Tipu's Chai Now® Unsweetened Chai
½ cup chopped walnuts

 
Instructions:
Preheat the oven to 375 degrees F.
Grease a 15 ½ x 10 ½ x 1" baking pan with butter or shortening.
Combine the raisins and water in a saucepan.  Bring to boiling, then remove from heat.  Stir in the butter.  Let cool to lukewarm.  Stir in the brown sugar and molasses.  When fully cool, stir in egg (Cool is important or the egg will begin cooking and create lumps).
 While cooling raisin mixture, combine in a large bowl; flour, salt baking soda and Tipu's Chai Now® Unsweetened Chai.  Add wet mix and beat until combined.  Stir in the nuts. 
Turn into the prepared baking pan. Bake for 15-18 minutes or until a toothpick comes out clean.
Cool in pan.  Frost or leave plain.  When cool, cut into bars.
Frosting options include:
Mix confectioner's sugar with milk and spread on while the cake is still warm
Sprinkle dry confection's sugar lightly over cake
Frost with cream cheese frosting